6 exciting cruises to take in 2023
Choose a cruise holiday for a unique insight into much-loved destinations
Our handpicked cruises are perfect when you want something a little different from your nautical adventure, whether that's because it's in the company of a celebrity or expert or because of a particularly brilliant itinerary that reveals more about a destination than you might expect.
Cruises are a great way to see the world, waking up in a new destination each day. Perhaps you're looking to visit somewhere you'd not considered before, like the Venetian Lagoon or along a particularly scenic stretch of a celebrated French wine region, like Bordeaux. Or maybe you'll find yourself dropping anchor at the St Tropez regatta for a view of this maritime display from the decks of a magnificent clipper. It could even be a once-in-a-lifetime experience, like the icy landscapes of Antarctica. Or stay closer to home and explore the beauty of the British Isles, in particular, Scotland's highlands and islands.
Whether you fancy a small luxury ship, a nostalgic sailing ship, or a purpose-built expedition vessel, we've picked six incredible cruises that all offer something a little different for a nautical adventure in 2023.
An adventurous Scottish Hebrides cruise
Why venture further afield when there's so much to discover on the Scottish coastline? Join an expedition cruise led by the expedition cruise line, Hurtigruten for a ten-night sailing around the Inner and Outer Hebrides. It's an adventure that takes you to wild and remote landscapes to admire the geology and peek at the wildlife. Lectures by the onboard science team at sea complement your visits on land, allowing you to delve into greater detail about the places you'll see.
Your discoveries go beyond Scotland's natural wonderland - on this cruise, you'll learn about the origins of tweed and Scotch whisky, and visit ancient standing stones, leaving the trip brimming with new knowledge and likely a lifelong passion for Scotland, its culture, and history.
You'll sail aboard the MS Spitsbergen, a purpose-built expedition ship that is the perfect size to navigate these waters. All your meals are included onboard, along with a selection of drinks at mealtimes. Your holiday also includes a private visit to Duart Castle on the Isle of Mull hosted by the clan chief.
Learn the intricacies of French cuisine on a Bordeaux cruise
If you've always wanted to know about French gastronomy, where better to learn than in one of the country's foremost food regions, Bordeaux? And who better to hear from than one of France's most celebrated chefs, Raymond Blanc? Join a cruise in October 2023, and you'll enjoy the company of the renowned chef on a voyage through the beautiful Médoc wine region.
You'll spend a week on the water, stopping at pretty river ports to visit markets and vineyards on a delightful food-themed cruise. During the voyage, Raymond Blanc makes a special guest appearance to host a French cooking demonstration, sharing his love of the region's food during an exclusive Q&A on board the ship. The ship also has its own cooking school, Scenic Culinaire, where you can try your hand at creating dishes inspired by the markets and tastings you'll have when you're exploring the destination you'll call at.
Such a chic itinerary deserves a ship to match, and the elegant Scenic Diamond fits the bill nicely. It's a true five-star ship, beautifully finished and swathed in opulent furnishings.
Explore Venetian islands in exquisite luxury
The Veneto region of Italy has extraordinary architecture and magnificent displays of art with islands woven with canals and waterways, making this region particularly perfect for exploring by boat. Special guest Rick Stein joins the trip for the final few days, accompanying a tour of the Rialto food market before hosting a cooking demonstration, elevating this cruise holiday from excellent to outstanding.
The lavishly opulent S.S. La Venezia is the perfect vessel for exploring these parts. Its style matches the verve of Venice, so when you board the ships after days of exploring the islands, you don't feel you've left Italy behind as you dine on Italian food surrounded by local art, Murano glass, and beautifully painted Venetian masks.
During this week-long trip, you'll visit unmissable sights of Venice, including Burano, Mazzorbo, Torcello, Chioggia, and Murano. You'll access famous locations when they're closed to the public, including St Mark's Basilica after nightfall and inside the church on Torcello before it opens. You'll also have VIP access to Doge's Palace during a special early morning visit. There's a superb choice of other excursions, all included, allowing you to join insightful walking tours or take to two wheels along the beaches of Chioggia.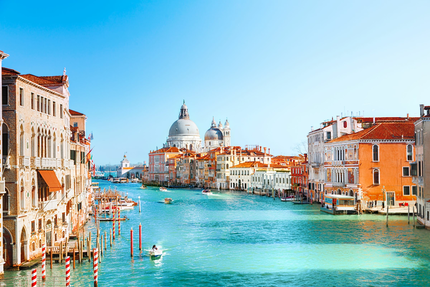 A Scenic Scottish Cruise with Special Guest
Sometimes you don't need to venture further afield, and our own beautiful British Isles can be admired. Scotland, in particular, is beautiful - with its highlands and islands, and meandering lochs - and there's no better way to see it all than from a ship.
Embark small ship Lord of the Glens in Inverness for this five-night cruise, through the Caledonian Canal and hidden sea lochs, as you sail to Oban, also calling at the Isle of Mull. The Caledonian Canal is an engineering marvel - built between 1803 and 1822, it connects the Great Glen's four lochs. You'll pass through its highest point, Loch Oich, sail through the eight inter-connected locks of Neptune's Staircase before being back on sea level.
Not only that, but broadcaster, journalist and proud Scotswoman Kirsty Wark will join you for the first few days - who better to talk about Scotland and its modern history? Kirsty will also speak to guests about her life and career, and even open the floor up to questions.
A once-in-a-lifetime expedition to Antarctica
Now's the time to cross this incredible experience off your bucket list. We are offering several dates this year (and next!) to visit the 'White Continent', Antarctica. Jaw-dropping scenery and wonderful wildlife await, as you join an expert expedition team for landings.
Expedition ship, MS Fridtjof Nansen was custom-built for sailing through the polar waters and has everything you'll need for seeing the frozen landscapes - including kayaks, a fleet of Blueye underwater drones and Expedition Boats for safe landings in remote areas.
Your itinerary will begin and end in Buenos Aires, capital of Argentina, calling at the country's southern-most tip, Ushuaia - often referred to as the end of the world! You'll pass through the Drake Passage before arriving in Antarctica, where you'll have five days to enjoy landings, ice cruises and if conditions allow, kayaking among the icebergs. Your on board expedition team will also host lectures and the Science Centre will teach you more about the destination.
Be sure to pack your camera, as you make memories on this once-in-a-lifetime cruise!
Small ship cruising around the amazing Adriatic
Discover some of Croatia's most stunning ports, as you sail around its coastline and islands on this seven-night cruise. MS Prestige's size means it's perfect for cruising the waters and can call into smaller bays that larger ships are simply unable to.
Most of the sailing is in the morning, allowing you to watch the scenery over breakfast, or from the deck. As well visiting popular destinations in Hvar and Split, you'll sail through the islands of Kornati National Park - a large archipelago of over 80 idyllic islands - and even stop at secluded bays for swimming in the beautiful waters.
Explore a new destination each day, with sightseeing tours included in Šibenik, Zadar, Hvar, Split and Vis. It's also in Vis that you'll visit a bar for a local wine tasting. And with evenings in port, you'll have time to explore independently, should you wish.