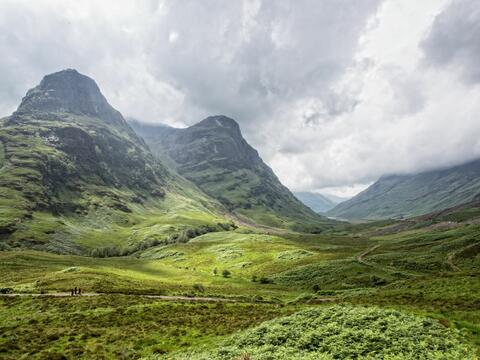 5 reasons to visit Scotland
Explore this country's breathtaking scenery and captivating wildlife
If you're planning a holiday, you might be dreaming of far-flung places with otherworldly landscapes that will leave you feeling truly restored. But you don't actually need to travel far for spectacular views and wild, untamed rural landscapes.
Scotland has rugged islands, spectacular wildlife and vibrant cities to explore, meaning whatever kind of holiday you're looking for, there's bound to be something for you. There are also a great range of luxurious hotels in Scotland too, perfect for holing up in for a break from the stresses of everyday life.
Take the wonderful Golf View Hotel in Nairn. Here you'll be treated to exceptional views across the Moray Firth, a sleek spa, and a restaurant with exceptional seafood dishes. It's the perfect retreat for experiencing the beauty of Scotland's coastal scenery.
So, if you're planning your holidays and need some inspiration, take a look at our top five reasons to visit Scotland. We're sure you'll be persuaded!
Incredible wildlife
Scotland is home to some of the UK's most intriguing wildlife. On land, you might spot adorable red squirrels clambering up trees, majestic stags rutting on the hillsides, and Scottish wildcats - although sightings of this endangered and elusive creature are rare, with only a few hundred still alive.
Get out on the waters surrounding Scotland and its islands and you might spot bottlenose dolphins, minke whales, grey seals and porpoises frolicking in the waves. One great way to spot native Scottish wildlife on land and on sea is to join one of our cruises, like our island-hopping adventure or a voyage on Lord of the Glens. This way you can keep an eye out for amazing creatures as you sail.
Mouthwatering seafood
With over 6,160 miles of coastline, another thing Scotland does right is seafood. Scotland farms over 65 different species of seafood found in the remote sea lochs and the deep waters of the Atlantic Ocean and North Sea.
To taste the freshest and best seafood it's of course sensible to book a getaway in one of the country's many picturesque harbourfront towns, like Oban. Here, you can often watch local fishermen bringing in the day's catch, which will later end up on your plate.
We have a two-night offer at the Oban Bay Hotel, where you'll have dinner included on both nights so you can dine on fresher-than-fresh oysters, mussels, and salmon. We're also offering two nights at the Loch Fyne Hotel with dinner both nights in the Cladach Mòr Bistro, where mouthwateringly fresh seafood is on the menu. Or stay near St Andrews at the Rufflets Hotel with this two-night short break, with dinner included on your first night.
Enchanting islands
A tranquil paradise awaits on Scotland's Hebrides, where you'll find white-sand beaches, postcard-perfect towns and cosy pubs with open fires. This stunning archipelago is famous not only for its outstanding natural beauty, but also for its delicious food and long history of whisky production.
Our island-hopping cruise is the perfect way to explore several of these isles in one trip, from Iona, with its ancient religious monuments, to the Treshnish Isles, uninhabited by humans but home to a large colony of puffins.
If you'd rather spend time getting to know one isle than island hopping, our two-day break on the Isle of Mull is a great option. Mull is known for its unique wildlife, beautiful scenery and iconic town of Tobermory, with pastel-coloured buildings lining the harbour. Stay for two nights at the Isle of Mull Hotel & Spa with us and you'll enjoy a tranquil break overlooking Craignure Bay, with dinner both nights, an afternoon tea, and access to the spa.
Elegant cities
As well as its astonishing rural vistas of lochs, glens, and mountains, Scotland is also home to culture-rich cities with elegant architecture and pretty cobble-stone streets lined with shops. The capital, Edinburgh, has inspired countless works of literature with its fairytale streets, towering castle and backdrop of rugged hills. There is plenty of culture to delve into here too, with several museums housing world-class art collections and historical artefacts.
Historic railways
Many parts of Scotland look like they're straight out of a storybook. And one way to travel around these almost fantastical landscapes is on a historic steam train, making your holiday feel even more like a fairytale.
There are several historic railway lines running through the Scottish countryside, including the famous Jacobite steam train, which chugs over the spectacular 21-arch Glenfinnan viaduct, which stars in the Harry Potter films.
You can ride the Jacobite steam train on our four-day tour of the Highlands in June or July, soaking in jaw-dropping views as you travel.