Ten trips to go on this spring
Choose a spring adventure from our handpicked selection of tailor-made trips departing early 2024
As springtime brings warmer weather, it's the perfect time to book a relaxing escape. Whatever your interests, and however you like to spend your leisure time, we've got a selection of exclusive trips to entice you to spend a few nights away - from cruises in Scandinavia and the Netherlands to foodie trips to Slovenia and Puglia, some in the company of esteemed experts, we're sure we can tempt you.
See the stunning Dutch tulip fields with Adam Frost
Join gardening expert Adam Frost on an unmissable cruise through the Netherlands and visit the country's beautiful flower fields. The famous Keukenhof Gardens cover 80 acres and are home to over seven million flowers, creating a riot of kaleidoscopic colour. You will also visit vibrant Amsterdam and see the architectural highlights of Rotterdam, as well as the charming windmills at Kinderdijk. Your home for this trip is the opulent MS Emily Brontë where all your meals on board are included.
Departing April 2024
Take a foodie tour of Slovenia
Slovenia's rich culture and spectacular landscapes are becoming increasingly popular with discerning holiday-makers. Join our exclusive foodie tour and sample local wines and craft beers, traditional teas, indigenous herbs and even take a truffle-hunting excursion. Visit captivating Ljubljana - the capital - gorgeous Lake Bled, majestic Triglav National Park, enchanting Istria and the wine-growing region of Vipava Valley.
Departing April 2024
Discover Norfolk with Lucy Worsley
Cruise along the Broads and tour Sandingham estate, home of Queen Elizabeth II, in the company of acclaimed historian Lucy Worsley. A trip to Norfolk never fails to delight thanks to its spectacular coastline, picturesque market towns and beautiful broads; on this fascinating trip you will visit Wroxham, Cromwer and Horning, as well as taking trips on the Bure Valley Railway, the Poppy Line and the Bittern Line. Other highlights include boarding the Southern Comfort Mississippi Paddle Boat for a Bure river cruise and visiting the Sandringham estate with Lucy Worsley, who will also give a private talk.
Departing April 2024
Cruise to Oslo and Gothenburg
Sail on a fabulous small ship and visit some of the highlights of Norway and Sweden on this Easter cruise. Travel along Oslofjord, a lovely stretch of water bordered by dense forests and dotted with pretty islands, whose beaches are popular with locals. Stop off at Oslo, taking in its museums and cultural attractions, as well as Gothenburg, including a visit to colourful Trädgårdsföreningen, one of Europe's best kept 19th-century parks. Your home for the long weekend is the Balmoral, which has excellent facilities and varied evening entertainment.
Departing March 2024
Stargaze in Northumberland with astronomer Richard Darn
Marvel at starry skies in the Northumberland Dark Sky Park and visit two of the county's observatories to see planets, star clusters and galaxies through powerful telescopes and binoculars. You'll hear talks from local expert astronomer Richard Darn and stay at the celebrated Battlesteads Hotel, a cosy pub hotel with excellent sustainability credentials, including a Gold Award from the Green Tourism Business Scheme.
Departing March 2024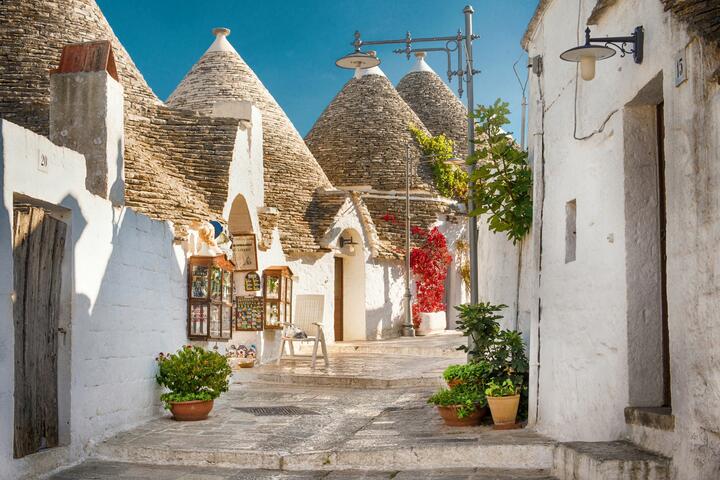 Take a culinary tour of Puglia
Revel in the sights and flavours of this much-loved Italian region on our exclusive tour. You'll visit local producers and enjoy delicious tastings at olive farms, bakeries and vineyards, and take a cooking class where you'll learn to make the Puglian pasta shape, orecchiette. This attractive region will capture your heart as you tour various locations including charming Bari and unique Matera, where you'll stay in a stunning cave hotel. And of course no stay here would be complete without staying in a traditional trullo, one of the region's distinctive cylindrical houses.
Departing March 2024
Watch the Dubai World Cup and meet Frankie Dettori
Experience one of the greatest race days in the equestrian calendar on a trip to glitzy Dubai, and have drinks with celebrated jockey Frankie Dettori. You'll stay on a half-board basis at the opulent Marriott Resort Palm Jumeirah and get Apron Views tickets to World Cup day at the Meydan Racecourse. Also included is an exclusive drinks evening and Q&A with Frankie Dettori and a tour of the Royal Stables with horse racing commentator Derek Thompson and champion horse trainer Bhupat Seemar.
Departing March 2024
Visit the Isles of Scilly with Julian Branscombe
Explore the islands of this stunning archipelago on this exclusive trip which will take you around Tresco, St Agnes, St Martin's and Bryer. Highlights include a visit to Tresco Abbey Gardens, the stunning coastlines and beaches of Bryher and a dinner and talk with Julian Branscombe, Chief Executive of the Isles of Scilly Wildlife Trust. Also included are a visit to an organic vineyard on St Martin's and a wildlife cruise to spot birds and sealife.
Departing April 2024
Cruise through Bordeaux and the Médoc with Monica Galetti
A host of beautiful towns and delicious vintages await you in Bordeaux and the vineyards of the Medoc region; join this tour with celebrated chef Monica Galetti and travel from Blaye to Bourg along the Route de la Corniche Fleurie on the S.S. Bon Voyage, a luxury ship with décor influenced by the refined elegance of France. Monica will join you for a visit to Libourne farmers market and host a live cooking demonstration, as well as a Q&A. You'll savour a wine tasting in the Médoc region, a Saint-Émilion walking tour with wine tasting and a visit to Cité du Vin museum, plus visits to Château Royal de Cazeneuve and Blaye Fortress.
Departing April 2024
Experience Madeira's famous flower festival
This tiny volcanic island holds an annual flower festival that sees the streets of the capital Funchal brimming with colourful celebrations. On this exclusive trip you'll get to celebrate with islanders and flower-lovers alike, plus you'll visit Funchal Botanical Gardens, Quinta do Arco Rose Garden and Palheiro Garden. To make the most of your stay on this stunning subtropical paradise you will also swim in a natural sea swimming pool, visit a sugar cane factory and do a rum tasting, and visit a trout farm.
This trip is also available with gardening expert Frances Tophill, who will accompany you to the flower parade and give a talk and Q&A.
Departing May 2024
More springtime escapes...