Celebrating over 175 years of Swiss Rail
The best rail holidays in Switzerland
For such a small country, Switzerland packs a punch when it comes to extraordinary holidays. While it's most famous as an outdoor playground in sensational Alpine scenery, it also has a world-class rail network, with tracks that ascend lofty peaks, and cosmopolitan cities including Zurich, Bern, and Interlaken - so there's plenty for those not looking to ski or snowboard.
What's the best Swiss railway journey?
Switzerland has several famous railway journeys, including the Bernina Express, the Mont Blanc Express, and the Glacier Express - perhaps three of the best-known. But other journeys claim fame, too, including the route to Jungfraujoch, the highest railway station in Europe and a nostalgic trip on a steam-powered cogwheel that dates back to 1892.
The Bernina Express follows the highest railway line in the Alps in panoramic carriages with curved glass roofs, allowing you to see some of Switzerland's finest scenery on a day trip from a base on the shores of Lake Como in neighbouring Italy.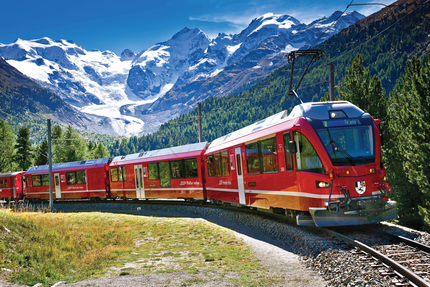 The Glacier Express carves a scenic path through the Alpine wonderland, sharing some of the same track as the Bernina Express, including crossing the impressive Landwasser Viaduct - an outstanding architectural masterpiece constructed in 1901. A journey aboard the Glacier Express allows passengers plenty of time to commit the spellbinding scenery to memory, and you'll also enjoy a three-course lunch as you travel - served in some of the best train carriages in Switzerland.
The Mont Blanc Express links France and Switzerland. On a six-day Lake Annecy and Mont Blanc Tour, you'll board this famous train to travel along the Montenvers rack railway, climbing 1913 meters through forests, tunnels and over viaducts before opening up to an enormous panorama with the Mer de Glace below.
What's the best Switzerland holiday?
When's the best time to visit Switzerland?
Snowy and ski-ready in winter, and verdant and vibrant in summer, Switzerland is always inviting. The right time to visit depends on the kind of experience you want. Most trains continue to operate throughout the winter, so passengers can admire the snow-blanketed scenery, although summer visitors won't miss out, as snow remains year-round on the highest peaks.
Travelling in the spring and summer promises a diversity of green shoots and snow-capped mountains, and milder climes for getting out and about on Alpine walks and taking scenic boat journeys across the lakes. Some people prefer Switzerland when it's quieter in the spring, after the skiers have returned home but before the summer holidays have started.