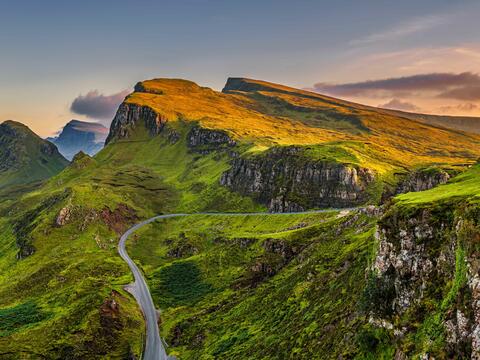 Best 2023 expert-led trips in the UK
UK trips to book in 2023
The UK offers remarkable destinations in abundance, but how to make use of your cherished time away? From a small ship cruise through Scotland's hidden lochs, to touring some of the country's finest stately homes or a once-in-a-lifetime experience of visiting late Queen Elizabeth II's final resting place, and exploring the picturesque Cotswolds with their honey-coloured stone buildings and rolling hills. You'll find a plethora of outstanding trips to some of the UK's most incredible sites and experiences, so here's our roundup of our best expert-led UK trips to book in 2023.
Scotland's Scenic Highlights with Kirsty Wark
Embark the traditionally-furnished small ship, Lord of the Glens, as you sail through the autumn splendour of Scotland's hidden lochs. Your five-day voyage will depart from Inverness, through the Caledonian Canal, to the wonderful Isle of Mull, and end in Oban. You'll also travel in the company of proud Scotswoman and broadcaster, Kirsty Wark, who will join guests for the first few days and talk about the history of modern Scotland.
6 days, departing September 2023
Explore Britain's finest palaces with royal historian Matt Lewis
Royal enthusiasts can expect insightful knowledge from author and historian Matt Lewis, whilst exploring the lavish homes and dramatic lives of the Royal Family. You will delight in exploring the oldest and largest occupied castle in the world, Windsor Castle, during a private tour, as well as delving behind the rope at Hampton Court, and visiting late Queen Elizabeth II's resting place.
3 days, departing September 2023
Uncover the Cotswolds with Adam Henson
The Cotswolds are truly stunning and so quintessentially British with their rolling hills, honey-coloured stone buildings and cosy country inns. During this four-night tour, you'll get to experience traditional English country gardens, while also taking a very special trip to TV farmer and Countryfile presenter - Adam Henson's - rare breeds farm. Adam will be giving a private talk and opening the floor to questions, over lunch on his farm. Also enjoy visits to Painswick Rococo Gardens and Sudeley Castle & Gardens.
Five days, departing September 2023